CyberGhost Review 2023
Pros:
Secure servers in 90+ countries
24/7 chat support
Cons:
VPN protocols not fully customizable
Overview
CyberGhost VPN has one of the largest server bases, with over 7,400 servers located in 90+ countries. They state that they offer unlimited bandwidth and traffic. You can opt to include a Dedicated IP upon subscribing to CyberGhost VPN, which will give you your own IP address to use across all your devices. This will keep your real IP address anonymous – but also iron out the chance of being allocated a blacklisted IP address (which often happens with VPN IP's).
Features
This is also one of the few VPN providers that offer optimized and dedicated servers, allowing you secure and private connection.
Under 'connection features', you can enable or disable 'block ads', 'block malicious websites' and 'block online tracking'. You can furthermore choose to enable 'Automated HTTPS Redirect', which will force your connection to redirect to the HTTPS version of a site for the most secure connection. There is also the option to compress data, which essentially compresses things such as images and other elements to reduce data usage.
Under 'smart rules' you can choose how you'd like CyberGhost to respond upon start-up, as well as customize 'Wi-Fi Protection', implement 'Exceptions' (to exclude certain URL's from passing through the VPN tunnel – OpenVPN is your default setting here. You can even initiate 'app protection', which will automatically connect CyberGhost VPN when you initiate a specified app.
Under 'settings' you can change the appearance and language of your app and enable or disable the Kill Switch. You can also select whether you'd like to submit anonymous usage data (this does not keep any personal data – only general usage info). Within the settings menu you're able to change your VPN protocol under 'connection', with either auto-select, or IKEv2 or OpenVPN. There are other options that include 'Use TCP instead of UDP', 'Use a random port to connect' (OpenVPN only), 'DNS Leak Protection', 'Disable IPv6 connections when connected to the VPN' and 'Repair virtual network card'.
Security and Encryption
CyberGhost VPN uses military grade 256-AES encryption protocol with a few added extras to secure your sessions. Their 'NoSpy VPN servers' are located in data centers that are fall outside the range and jurisdiction of the '5 Eyes' (FVEY) – the anglophone intelligence alliance – and the '14 Eyes' intelligence group. This means that the NoSpy servers are isolated from mass surveillance and 3rd party intrusion.
The company offers further anonymity with a guaranteed No-Logs policy – and they place a lot of emphasis on user privacy. No logs are kept, be it account data, IP addresses, servers which were accessed, traffic data – or any other info sent over a CyberGhost server. They do not even keep track of your login times.
Pricing
When it comes to payment options, CyberGhost VPN offers plenty of flexibility with four different pricing plans to choose from. The biggest saving comes with their 2-year plan, discounted by 83%, which is billed at $2.17 for 2 years, amounting to $2.17 per month. Next up is the 6-month plan, which bills you $38.84 every 6 months, which calculates to $6.39 per month. You then have a monthly plan billed at $12.99 per month.
The first two pricing packages (2-year & 6 -month plans) come with a 45-day money-back guarantee, whereas the 1-month option gives you a risk-free 14-day money-back guarantee.
CyberGhost VPN allows you to effect payment via PayPal, VISA, MasterCard, American Express and Bitcoin.
Ease of Use
After processing payment you'll receive an activation link, after which you can sign into your account with your chosen username and password. The file size is an unbelievable 116kb and the installation process is flawless and fuss-free.
The app interface might seem a bit clunky at first and you'll need a moment or two to figure out what minimizes and expands what and when. It isn't one solid app interface – there are expandable windows that open additional boxes (and ways to minimize the app to a point where it almost disappears entirely). If it minimizes to a small grey box at the bottom of your screen, double click/tap on the CyberGhost logo – and the rest of the interface will reappear to its elongated vertical look.
There is a small arrow to the side of the app, and if you engage that arrow, the app will expand to include a host of features and options. You'll find 'favorites', 'all servers', 'for torrenting', 'for streaming', 'connection features', 'smart rules' along with 'my account' and 'settings' sections. Once you get the hang of it, it is fairly easy to use the CyberGhost VPN app.
Speeds
I determined my baseline speed (not connected via a VPN) by running multiple tests on speedtest.net over a 100mb symmetrical fibre line – connected via an Ethernet cable directly to my router. The tests were conducted on a Dell XPS15 4k touchscreen laptop with 32GB ram and a 1TB SSD (utilizing a Gigabit USB to Ethernet adapter – well worth a purchase if you're looking for that extra bit of speed that you sacrifice when connected via WiFi).
For the CyberGhost VPN speed test, I connected to the default US server under the 'favorites' section, which connected me to Miami, Florida. I ran multiple consecutive tests and drew an average speed and ping reaction time from those figures.
Screenshot of CyberGhost speed test results on Speedtest.net from Miami servers test-1
Screenshot of CyberGhost speed test results on Speedtest.net from Miami servers test-2
Screenshot of CyberGhost speed test results on Speedtest.net from Miami servers test-3
Screenshot of CyberGhost speed test results on Speedtest.net from Miami servers test-4
Screenshot of CyberGhost speed test results on Speedtest.net from Miami servers test-5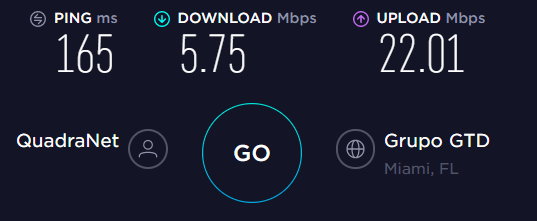 Baseline Speeds: 55.87Mbps Download / 87.94Mbps Upload
Baseline Ping: 4.67ms
CyberGhost Default US VPN Speeds: 5Mbps Download / 11.28Mpbs Upload
CyberGhost Default US VPN Ping: 164ms
The ping remained stable, although there were fluctuations in the speed, particularly with the upload speed – where there were major spikes at times. Regardless of the low download speed, I could still comfortably stream and go about my general browsing.
Supported OS & Devices
CyberGhost VPN supports a host of desktop, mobile, browser and TV apps – and you can configure a custom connection on your router with OpenVPN, L2TP or IPSec to secure your home network. Supported operating systems include Windows, macOS, Linux, iOS and Android, with Chrome and Firefox browser extensions.
Customer support
CyberGhost offers excellent customer support and they're available 24/7 live chat or email. I found their turnaround time on responses to email to be quite swift, with an average response time of 30 minutes. I found the same quick response to their Live Chat service, where I was served instantly, despite being in 'cue position 3'.
Currently there is no way to contact live support directly from the app – and you'll need to navigate to the website to engage with a support agent in real time. There are two ways to go about this – visit the CyberGhost website and give it a second. A 'support' box will appear at the bottom right-hand side of your screen. Type in a general phrase related to your query, and you'll receive a list of automated responses based on your search – along with a 'Live Chat' option at the bottom.
The alternative way to get in touch with a techy is to go to the 'help' tab on the site. There you will find a 'chat' box at the bottom right-hand side of your screen, which will put you in touch with an agent almost instantly. On the 'help' page you'll also find a range of additional support options, such as guides, a troubleshooter and a comprehensive FAQ section. There are loads of additional support articles pertaining to specific OS's along with 'practical tips'.
If you prefer email communication, you can opt to 'submit a request', which is located at the top right-hand side of the page – as well as within the app. As I've mentioned, they are super quick with response times for support tickets submitted via their online contact form and through their app.
VPN numbers
Simultaneous connections allowed: 7
Server locations: 112+ (in 90+ countries)
Number of servers: 6100+
Average speed (in Mbps): 8.14Mbps
Bottom line – CyberGhost VPN review
Excellent VPN for secure access and general browsing. NoSpy servers for complete anonymity. Suitable for both beginner to advanced users.
Pricing
$12.99/Month
$2.17/Month
Visit Site